I downloaded a new timer app that lets Addie race against the timer to get things done. Apparently this app is speaking her language because she spent an hour asking me for things to do. It was kind of annoying BUT she did a bunch of cleaning and helping so I can't complain about that. But getting her to cooperate for pictures is not always easy these days. She either wants to be silly or look away from the camera. So sometimes I have to take the ugly kitchen lighting for a real laugh rather than a posed one by the nice light.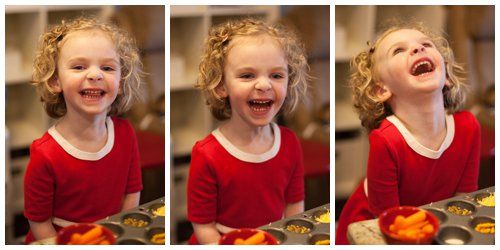 Neil is either the sweetest sweet or the grumpiest grump. That's just how he rolls. He's always grumpy at church. He really loves to catch a glimpse of himself in the glass in the foyer, then suddenly he's so excited because WHO IS THAT CUTE BABY!? This afternoon he was a happy sweetie for a little while and indulged me for some pictures when the sun finally came out for a few minutes.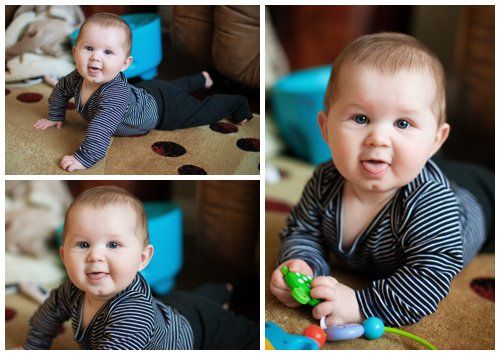 He's rolled from back to tummy occasionally in the last couple months but he suddenly mastered it this week. Now he does it almost immediately when laid down. But it seems like he can't remember how to get from tummy to back now so sometimes he wakes up at night crying because he's on his tummy, or he gets mad when he's playing on the floor and he's stuck on his tummy.
My pediatrician recommended a walker to help with his grumpiness. Maybe being able to get around would help with that? (I was so surprised she recommended a walker though since it's kind of controversial these days!) We're desperate so I picked one up and…. it's a hunk of junk. It's a nice little seat with a tray to hold toys but the design makes it impossible for him to actually put his feet on the ground and move.
He suddenly has 4 teeth (and 2 more about to come through) in the last 2 weeks. And those puppies are sharp. He's grabbed my finger and given it a chomp more than once. Oh and he's really into pulling hair right now. Yay. Oh but I love him so.
Jacob has had to work all weekend and Addie has such a hard time when she doesn't get to see him much. Weekend are the worst for that, there's almost no possibility of him getting home in time to see her. Last night we had this conversation:
Addie: I just need to stay up yater so I can see Daddy.
Me: Daddy's going to be home really late tonight, after you are already asleep.
Addie: But then how he gonna see me?
Me: Maybe he will come peek in on you when he gets home.
Addie: But….how will I see him if my eyes are closed?
She had a terrible night Friday night, waking up constantly asking for him (he was home) and crying about her legs hurting (a common complaint.) So last night I got her in an epsom salt bath before bed and it may or may not be related, but she had a great night last night. And was pretty darn sweet today. I love these days when she's just like a little pixie running around the house.