In my renewed efforts to be a better keeper of our family memories, I'm going to try doing a monthly roundup. I need to write monthly write ups for our family newsletter anyway (I've completely gotten out of that habit) so this will help my memory keeping in SO many ways.
Here is the roundup for January!
Watched
- Downton Abbey
- White Collar
- Parenthood
- Shark Tank
- American Idol
Read
- The Book of Mormon
- The Ensign
- Healthy Sleep Habits, Happy Child (well bits and pieces!)
- Real Simple
Listened
- Lorde
- Phillip Phillips Radio on Pandora
Fun Things with Friends and Family
- Jacob's parents came to town on their way home from their mission in Spain. We got to spend an evening with them and hear about their experience.
- Spent a Saturday afternoon with Jacob and the kids running errands in SLC. Made a visit to visit our friends Kalie and Jason and their cute kids.
Milestones, Holidays & Special Events
- Neil turned 6 months old.
- Jacob had MLK Jr day off work. He spent the day helping Heidi with some home projects (that was his Christmas present to her.)
- They started framing our house!
- Neil's first tooth!
- Neil started solid foods and is a BIG fan.
Progress on Goals
- My Sunday Photos goal is going well. I found that I really need to pull out the DSLR to get the kind of pictures I want. I wasn't very pleased the week I just used my iPhone. It's a better challenge to use my real camera anyway since I use my iPhone camera everyday.
- Reading along with BoM365 on Instagram. I've read the assigned reading every day. It's so nice to get the prompt in my feed each morning. I read during Neil's first feeding in the morning.
The Good, The Bad, The Unusual
- Addie got a much needed haircut and her short hair turned CRAZY curly!
- Neil had his 6 month well check and then 10 days later was back with a wheezy sick cough. We put him back on Prilosec (for the spit up and general grumpiness) and an inhaler for the wheezing.
- Jacob ran out of gas on his way to work one morning but it wasn't too far to walk to a gas station. Had to laugh since he's always telling me that I have tons of time to get gas even after the gas light has turned on!
- Had our tax appointment with our accountant. Always a stressful event! Though we hit the new donut truck in Springville after so that made it slightly less painful.
The Everyday and Routine
- Worked on January and February vocabulary units for the shop as well as some components for a vocabulary resource pack for teachers.
- We continued our twice weekly trips to Provo for preschool. The kids are both great in the car for the most part. Neil will sleep all or part of both trips and Addie usually sleeps at least part of the trip home. Neil is a bit of a handful during the 2.5 hours we are there though and I do a lot of moving around to try and find something to entertain him. I'm not longer able to get any work done on my laptop while we are there.
- Most nights Neil goes to bed by 6:30 (so early but he demands it) and Addie at 8:00. If Jacob is home, he takes care of her bedtime routine.
- I try and save my grocery shopping and errands till an evening when the kids have gone to sleep, if possible. That often means a Friday night. Living on the wild side.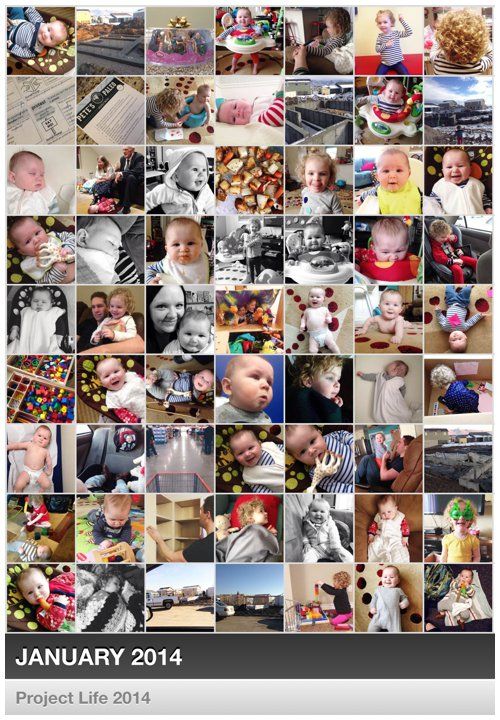 collage made using the Collect iPhone app