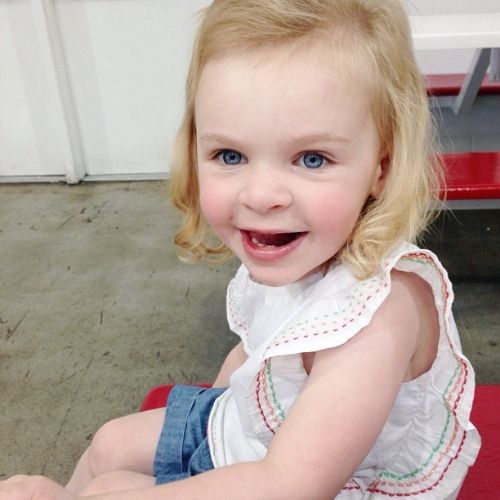 Our sweetie!
1. Life has been crazy since Match Day (a month ago already!) So many decisions to be made now that we know where we're going. Jacob has had a ton of paperwork to do for the residency so it's been a pain to get that done (and I've had to do a lot of it because his current rotation is very busy.)
2. Jacob's 29th birthday was the day after Match Day. He had to work the night before so he spent a good chunk of the day sleeping. My friend Laura babysat Addie for a couple hours so we could go to dinner at Cracked Pepper Bistro. It's a fancy restaurant that is always recommended as the best restaurant in Fresno. I didn't make reservations in advance because we were so wrapped up with the Match that we didn't know what we wanted to do for dinner. But we went right when they opened and they squeezed us in before a later reservation. Their eggplant/goat cheese napoleon is famous so we started with that and could barely keep ourselves from "MMMMMMMM"ing the whole time we ate it. Seriously, so good. My entree (braised short ribs) was delicious but Jacob wasn't that crazy about his steak (sad!) We shared the bread pudding for dessert, their other famous dish. But we were so full that after a couple bites we had to take the rest home. Honestly, that's all we did for Jacob's birthday! He's happiest when he's well-fed.
3. I'm about 28 weeks now. I have a hard time keeping track because they've moved my due date around a little bit. My iron is low which explains the several weeks of severe exhaustion and fatigue I was feeling. Iron supplements have helped with that and I've been enjoying another burst of energy. Sleeping has been rough, I think a lot earlier this pregnancy than last. My left hip has been killing me for weeks now. Sleeping with the pregnancy pillow has helped but it still bothers me.
4. This little guy moves a LOT. And the last few days I've been noticing he seems to have the hiccups once or twice a day. Little rhythmic pops for a 4 or 5 minutes. We have talked names but aren't even remotely close to choosing something. I'm very picky about names in general but especially boys names so I have no idea how we're going to choose something! The few names I've liked have not been favorites for Jacob so we're pretty much at square one.
5. Matching to Utah for Jacob's residency is absolutely the best possible scenario we could have and we are so excited to be moving back there. BUT moving is still a stressful process. The first road bump we ran into was insurance. We will have a lapse in coverage for about a week at the end of June when Jacob's insurance ends here (at the official end of his 1st year) and when he starts the new residency on July 1. If the baby comes that week, we will have to use COBRA. I'm crossing my fingers that we won't run into pre-eclampsia this pregnancy and hopefully the baby will come after July 1st! The other issue is we planned for Addie and me to go to Utah at the end of May for my cousin's wedding. We planned to stay there while Jacob finishes up here and moves. Then I could start seeing my new OB for the last part of the pregnancy. But our current insurance will not pay for doctor's visits out of state. After many, many phone calls to different people we think we have it worked out so we can still go with that plan. So that's one piece of good news!
6. I've also been really busy trying to figure out what we want to do for housing in Utah. It's more expensive to rent there than it has been here. So we're looking at our options and trying to decide what to do! Jacob's really busy with residency and studying for Step 3 so it's pretty much all on me to figure out.
7. Addie's birthday was a couple of weeks ago. My baby is 3! I will have a post about her birthday and more about her at 3 soon. My parents were here so we enjoyed celebrating with them. No party this year! As much as I love doing parties, I just couldn't tackle one this year. I think Addie was plenty loved and spoiled without one. My mom took me on a tour of her childhood homes/schools in Tulare during their visit. And another day we made it up to Yosemite (hopefully pictures soon.)
8. Addie is finally sleeping in her own bed again for a month or so now. One night I just decided to try the Super Nanny approach of walking her back to bed without saying anything to her. She was so bewildered the first time I tried it that she went along with me. She whimpered in bed for 10 minutes or so and then went to sleep! I've been religious about that method ever since. That completely eliminated any funny business at bedtime (and she's been great about going to bed at 8 or earlier, usually telling me when she's tired and wants to go to bed!) And if she wakes up in the middle of the night I just take her back to bed and tuck her in and she usually goes right back to sleep. But it's been weeks and weeks since she slept in our bed. We used a sticker chart and prizes for awhile but she forgot about them and kept up the good habits, yay. We've been battling her sleep since last September so this has been a huge relief. Especially since my sleep is already so disrupted with pregnancy!
9. Business has been booming for Heidi and I. We can't keep up with all the products we're trying to get done. I get e-mails and messages everyday asking us when we'll have this or that ready for this or that grade. There just aren't enough hours in the day, especially with everything else Heidi and I have going on. But it has been such a huge blessing for both of us to see this amazing success and I am grateful every day. We are doing our best to get new products done.
10. My friend LaShay has been watching Addie a couple mornings a week so I can work which helps so much. Addie LOVES her kids so she loves going. They have a big yard with a trampoline and playhouse and garden. She usually comes home absolutely filthy and exhausted from playing so hard. And having a few hours of uninterrupted work time has been amazing for getting those new products done. I just stopped having my mother's helper come each week. She only came for 2 hours and since Addie was still here, I was constantly interrupted. This set-up with LaShay is a much better arrangement for productivity.
I feel like this is just a sliver of everything that's been going on lately. I kept putting off writing a post because there was so much I wanted to mention but this give at least a glimpse of our lives right now. And now I need to take my tired, pregnant body to bed! I will try to do a post with pictures soon!