1. I am so behind on blogging. I always feel like my Addie-free time needs to be spent on business related things because there is always so much to be done. I feel guilty if I'm using nap time to blog or do Project Life when people are waiting a begging for the new products we're working on. I'm trying to figure out a routine to make sure blogging still happens. It makes me sad that my blog is so neglected when I used to be so good about it.
2. Jacobs on a really busy work schedule this month. He gets every other weekend off for 6 weeks (6 days total off in 6 weeks) so he works 12 days straight at a time. The shortest days are 12 hrs. Monday he worked 17. Needless to say, he is exhausted and we miss him a lot.
3. Last weekend was one he had off. We spent most of Saturday looking at new living room furniture. Our Ikea stuff is absolutely hammered after 4 years. We'd probably buy more Ikea stuff just to be cheap but the closest one is 3 hrs away. We found a few we really liked but didn't make a decision yet. It feels like such a huge commitment.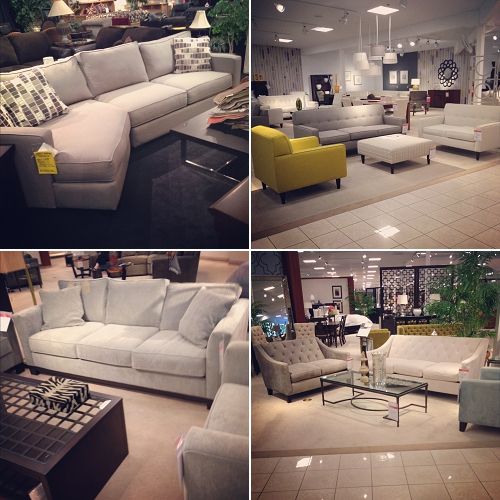 4. Addie has suddenly decided she doesn't like to go to the gym daycare. It's been a huge battle lately. One day it took 20 minutes to get her to hand over her cheese snack so she could go in (this was one of those parenting moments when I thought, "Someday you're going to hear all about this, kiddo!") Another day she clung to me for 15 minutes before I could leave. But when she finally lets me leave she does fine. Hoping she gets over this phase quickly because it makes it difficult to go to the gym.
5. Luckily she still loves the church nursery. My only issue with nursery is the leaders give the kids suckers every week at the end of class. So when I pick her up she's a big sticky mess all over her church clothes. And it lasts forever so getting her to hand it over to take her nap when we get home is an ordeal every week. I feel bad criticizing any nursery leader because its the worst church calling but it really drives me nuts.
6. Last week I was invited to a little luncheon at someone's house. The table was done up for fall and it was so nice. I met some new ladies in the ward. Addie loved running all over their big yard.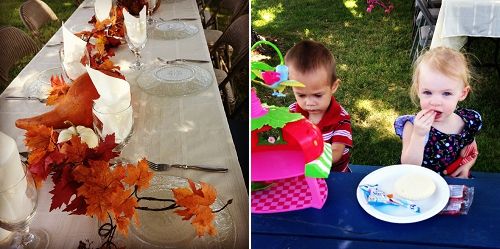 7. We got iPhones. If you know me you know I've wanted one since they came out but our budget was just too tight for a smart phone data plan. And our old plan was super cheap (they don't even offer it anymore.) But now that we both have income and jobs (yes my business is now real job) that necessitate and justify them we took the plunge. Not gonna lie, we are in love. I pre-ordered mine and it came the day it was released (and it took over 3 hours on the phone with Sprint and Apple to get it activated because of something stupid but nevermind that.) Jacob wanted to wait and play with mine first but he wanted it too. We had trouble finding a way to get it without him having to wait a month for it to be delivered but then someone at Apple said to just log on the site every night at ten and see if your store got more in stock and the very first night he tried that he got one at our store here in Fresno. So now we are finally in the same century as everybody else with smart phones (sorry about all those times you sent us picture mail and we said, "uhhh we don't have smart phones.")
8. It is still so stinking hot here. 100 degrees some days. I always get homesick for Utah in the fall and its especially bad on these super hot days. I've been researching some places to go in California for fall foliage. Hopefully we can make a trip one of the weekends Jacob has off this month.
9. So excited for general conference this weekend. Jacob has to work all weekend so ill be trying to entertain Addie at the same time but I can't wait.
10. Jacob planted a garden as soon as we moved in and it's surprisingly done really well. We've had some tomatoes and spaghetti squash and lots of zucchini. So far I've used up zucchini in hidden veggie taco meat, zucchini "noodles" with pesto, chicken and zucchini stacked enchiladas, and a few batches of this zucchini bread, which actually Jacob has been the one to make. We make half as bread and half as muffins (with pecans) because Addie and I prefer the muffins (and I like pecans and Jacob doesn't.) And when he made it on Sunday I made this cinnamon cream cheese frosting for the muffins (which then became cupcakes) and holy moly it was delicious. (Side note: I've been teaching Addie to say "holy moly!" and it's my favorite thing ever.)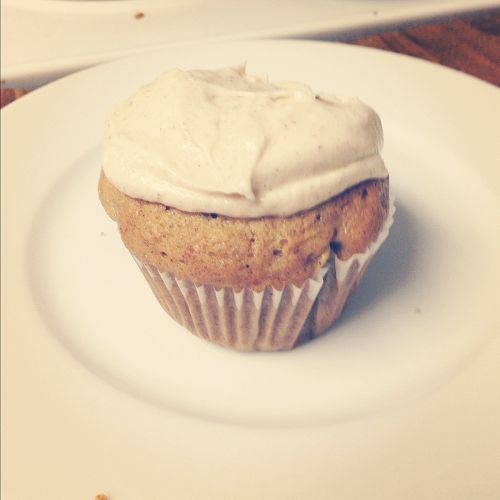 And because I want to be more current about sharing our news and photos, here a some spur of the moment shots I snapped last night when Jacob got home from work and Addie ran out to meet him. (He got home while Addie was still awake AND the sun was still up!) These are not all completely in focus, maybe not something I would normally go out of my way to share on the blog because it's not particularly my best work, but the memory and the moment is what really matters and that's what I should be taking more time to record.