I wrote this post a week and a half ago but didn't post it because I wanted to at least include a picture. So here's some pictures of Addie and Grandpa from Utah in May.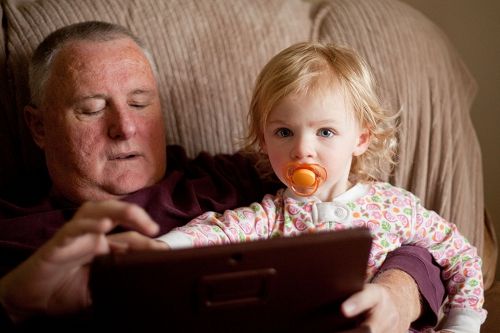 We've been in Fresno for a month now. Here's what we've been up to.
Jacob
He's in his 4th week of residency now (plus a full week of orientation before that.) This month he's doing "wards" and it's fairly long hours. He's only got 4 days off a month (it's every other weekend.) He has to be there by 7:00 but I know he gets there well before that. Every once in awhile he's been able to come home around 4:00 or 5:00 but it's usually closer to 7:00. And twice a week he has the call shift where he has to be there until 8:00 but he usually isn't able to leave until after 9:00 those nights (like on July 4th!) He's pretty tired, as you can imagine. I think he enjoys the work for the most part.
Adelaide
She's talking up a storm lately. Recently she discovered and fell in love with Super Why and asks for "Supe! Why!" all the time. She also fell madly in love with macaroni & cheese and always requests "mac! cheese!" (but that doesn't mean she gets it, much to her dismay.) She loves having a backyard but doesn't like to be out there too much unless we're out there too. She doesn't like to run through the sprinklers but loves to water the plants or pour water at her water table. She loves to play with the sidewalk chalk too. Two weeks ago she got sick and we couldn't quite figure out what she had. She had a fever but no sniffles or coughs. The main thing was she wouldn't eat or drink or even suck on her binky. She barely slept for two days and screamed all the time. We finally took her in to Urgent Care (because Jacob didn't feel like he had enough peds experience to diagnose her.) The NP did a quick look over at her and said when they can't tell what's wrong with a child the fall back is bladder infection so he gave us an antibiotic for that. I kept coming back to the sore mouth but he kind of blew me off. We started the antibiotic even though I was pretty sure that wasn't what the problem was. The next day I scoured google and finally decided she had hand, foot, and mouth (coxsackie.) But there isn't anything to really do for that so we just had to wait it out. Finally after several days she was back to her old self, except she wasn't sleeping very well still. After a full week of not using the binky, she found one in her carseat in Jacob's car and he let her have it. That night she slept amazing. I had planned to confiscate it again the next day but after she was sleeping again, I didn't care anymore! Last Sunday in nursery I found out that there had been a hand, foot, mouth outbreak and all the kids had been sick! Too bad I didn't hear about it BEFORE we went to Urgent Care and put her on an unnecessary antibiotic.
Oh and speaking of nursery, she LOVES it now. She's sometimes a huge pill in Sacrament Meeting because she wants to go to nursery. No tears anymore. What a relief! She's singing lots lately, especially the ABCs. She's trying to count things too, not always successfully. She tells me at bedtime she wants "fee" (3) binkies. Ya know, one for her mouth and one for each hand.
Me
I have been extra busy since we moved here. On top of having to take care of all the kid/house/relocating/bill stuff because Jacob was too busy to help with any of it, our business is in a really busy season. I've had a lot of opportunities come up through our blog that have taken me a lot of time. And we decided to make a 1st grade morning work book because the 2nd grade one is selling like crazy and people keep requesting one for 1st (and 3rd, but one thing at a time.) But putting it together is a HUGE project. It's taking pretty much all of my time right now. I'm also taking an Illustrator class (an opportunity that came up through our blog) so I've got lessons and homework to do for that, but it's been fun. I started Mommy School again with Addie but now that I'm so busy it's on the back burner again. I still do some of it when we can but we'll probably be up and running with it more in the fall. Oh and Project Life? Still very behind, but I put in time with it whenever I can (which is not much since starting on the morning work book.) I hired a "mommy helper" from church to come help out a few mornings a week. She basically just entertains Addie.
About California
We're not crazy about our neighborhood but it's not as bad as it seemed when we first got here. We like having so much space in our house, even if it is an older house with the most hideous carpet ever. It's been HOT, only slightly cooler than Henderson. But it feels easier to handle because it gets in the 70s at night and the mornings and evening are bearable, unlike Henderson where it's stifling even at midnight. Even still we find ourselves missing Henderson a lot. You don't always realize how good you had it until move somewhere else! We felt like we got settled here pretty quickly and we get around town easily. Unlike in Henderson, we do a lot of around town driving and not much freeway driving. Overall, it's a pretty nice place to live.
Here's Addie playing with her sensory bin (in case you don't read our Second Story Window blog. Which you should, by the way.)