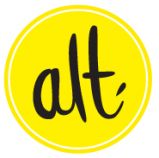 I have not been lucky enough to attend any of the Alt Summit conferences over the last couple of years, not for lack of wishing. So I was delighted when they started offering 1 hour live online classes for $15. Once I took one, I was hooked. It's really great ME time learning more about my interests and how to help our business succeed.
One of my favorite so far has been Alison Faulkner's Illustrator class. I've also taken a class about Analytics, a class about blog advertisers, a class about getting your shop noticed…. you get the picture! There are great classes and I've taken several. You wouldn't think that you could cover much information in an hour, but you'd be surprised! The teachers are always so well prepared. In the class there's a video of the teacher, a power point (that you can download after the class), an on going chat with the other students, a time to ask questions and more. It's a great platform. And I really think the key here is the price. It's affordable for everyone while the Alt Summit conference may not be.
Why am I telling you this? Because Bing is offering an opportunity for people to take some Alt classes for FREE. So cool right? #thanksBing Click here for details on getting your own free class.