We are just a couple weeks away from graduation and all of my med school girlfriends are starting to go their separate ways. But we were able to squeeze in one last girls night. We had to hold it at 9 PM on a Monday night because that was literally the only time all 10 of us would be in town/not at work the whole month. We moved the date around several times before finding this time that worked for everyone. Because of all the changes, I didn't have as much time to put into the party as I'd have liked. There wasn't really much in the way of decorations. But by golly there was food, and it was good.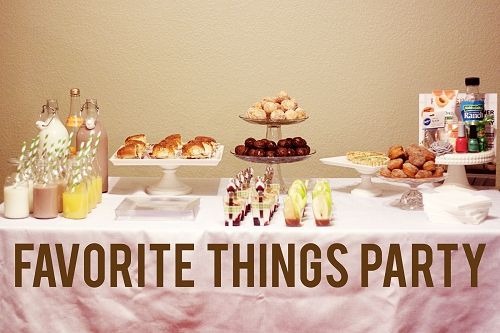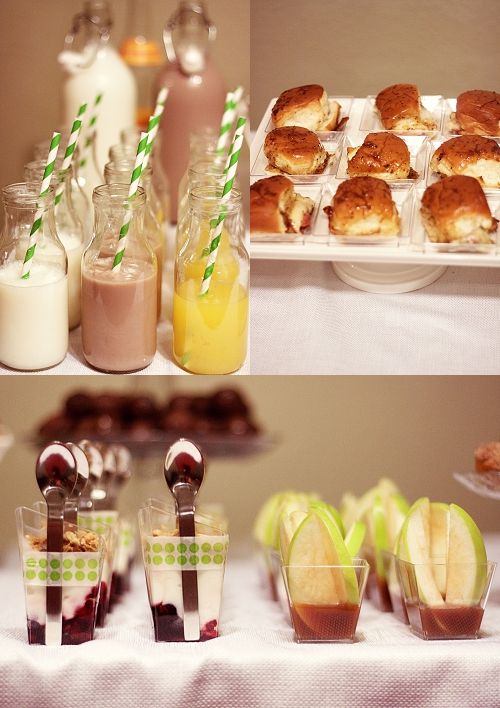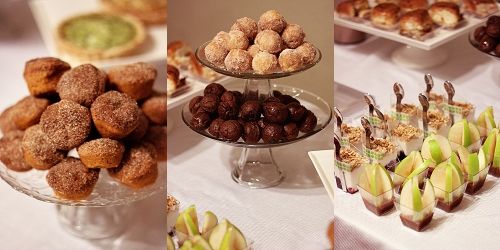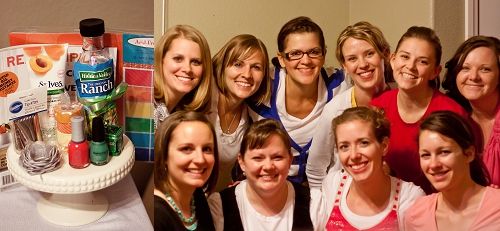 the favorite things + the girls
Menu: (at the request of my mom and aunt)
- milk, chocolate milk, and sparkling clementine juice from TJ's
- quiche (store bought)
- muffins (from Melanie)
- yogurt parfaits (frozen fruit, Trader Joe's vanilla yogurt, granola) with spoon attached with washi tape (a la armelle)
- apples and caramel dip (from TJ's)
- donut holes made with cake pop maker: sour cream dipped in butter and cinnamon/sugar and chocolate with glazed icing (powdered sugar and milk, dash of vanilla)
- ham & cheese sliders (recipe below)
Ham & Cheese Sliders
modified version of this recipe
12 hawaiian sweet rolls or butter rolls
12 pieces good honey ham
12 small slices swiss cheese (I often only use 6 and put half a slice in each)
sauce
1 1/2 TBSP poppy seeds (I just guess on this)
1 1/2 TBSP yellow mustard
1 stick butter, melted
1/2-1 TBSP minced onion (I guess on this too, just sprinkle it in!)
1 TBSP worschestershire sauce
2 TBSP brown sugar
Assemble the sandwiches. Pour sauce on top. Cover with foil. Cook 12 minutes 350 degrees. Remove foil and cook another 3 minutes.
Our favorite things were:
- Real simple magazine
- washi tape (from Target) – this one was mine, of course!
- a cake decorating tip
- bag balm
- nail polish (x2)
- St. Ives apricot scrub
- homemade salad dressing bottle
- scrapbooking paper
- hair flower
We each brought 5 of our favorite things and went home with 5 new favorite things. The hardest part was that we all wanted one of everything! We drew names and then at the end did some trading.
This was really just an excuse for everyone to get together and it was worth all the hassle to organize it. I will miss these girls more than I can even express. They were so good to me when I moved in- a year later than all of them. They took me right in even though they already had their own friends. They talked me down when my crying baby had me on the edge of sanity. They kept me company at countless playdates. They taught me some of their amazing talents. They inspired me to be a better mother, a better wife, a better person. It's hard for me to even imagine getting through residency without them. But luckily I will still have their friendship, even if we can't all go through it together in the same town. I KNOW they were one of the reasons that our Heavenly Father prompted us to move here when we were just getting comfortable in NY (another place full of amazing women I admire and miss.)
Paige, Alisha, Marci, Rachele, Erica, Jamie, Casie, Robyn, Melanie: Thanks for three amazing years. I will miss you so much!
P.S. if you want to see a really darling favorite things party that I would like to copy in the future, check out Shannon's party!