I've been thinking some more about memory keeping. When I was a kid, my mom made "memory books" (the precursor to scrapbooks) for us 3 kids. They went from birth to high school graduation. We each had our own set which means my mom has one closet devoted to these huge scrapbooks. And they are SUCH a treasure. I have my birth-2 yrs one with me (I like looking through it occasionally to compare with Addie) and when I look at it I feel like I have each page memorized. That's how often I poured over it as a child.
Also, since before I was born, my mom and her 3 sisters have done a monthly newsletter. Back in the day, they took turns taking a quarter of the year to be the editor. Each family (and Grammy) MAILED a monthly report to the editor who typed and formatted the letters into a darling little newsletter that was mailed to everyone. Now it's digital. These things are amazing. Talk about family history! I think ours go back 30 years now. My sister and I both have memories of pouring over the newsletter when it arrived- mostly to read what was said about us. There's something to be said for a child hearing about themselves in the words of the people they love.
So I've been thinking a lot about my memory keeping "plan" for the future. I know it will evolve with time but here are my current thoughts.
- Project Life as the family "scrapbook" for as long as I continue to do it or some version of it.
- Yearly photo books. I used Cathy Z's monthly templates for my 2009 and 2010 books. Will probably use them again for 2011. For the monthly journaling, I use our newsletter entry. I think this will be something that I want each child to have a copy of. At this point I don't know if that will mean ordering 3 (or however many) every time I make one or if we'll just order them down the line.
- Misc. photo books. Addie already has several such as an 8×8 of newborn photos, and a book with all the letters I wrote her in her first year.
- School books. Becky Higgins has talked some on her blog about school albums for the kids and I see this as something I might want to do down the line for the kids when they are school aged. Luckily I've got time to think about this.
- I do intend to keep printing my blog in a book from Blurb but I see this as a book more for myself as I don't blog every photo or event and I write a lot of things that are mostly for me.
I'd love to hear your thoughts on a memory keeping game plan, if you have one.
So back to Project Life. I am loving this project. I have found it to be manageable to keep up with and every week it gets faster. I don't feel pressure to make each week perfect. And I'm always pleased with the result. Here's week 3.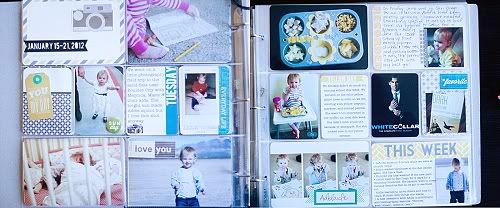 The whole week (matched up a little funny)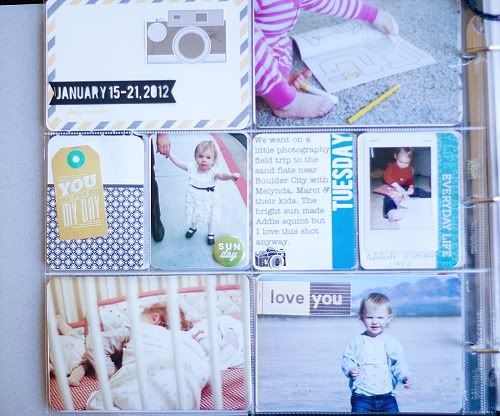 Left side.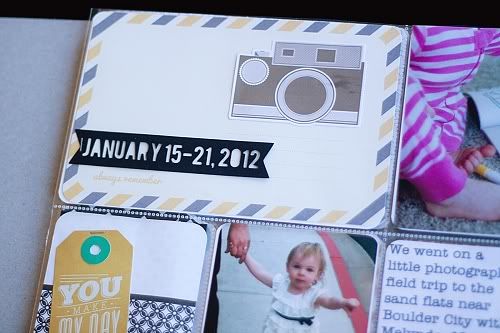 Title card. Date range using Silhouette, camera sticker American Crafts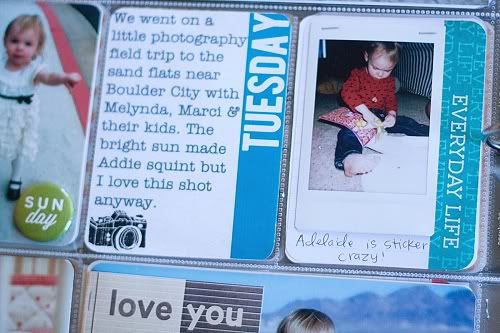 Camera card from Valorie Wibbens Designs. I added the colored box/Tuesday.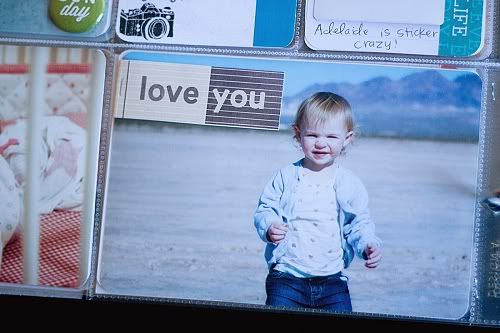 Ormolu flapper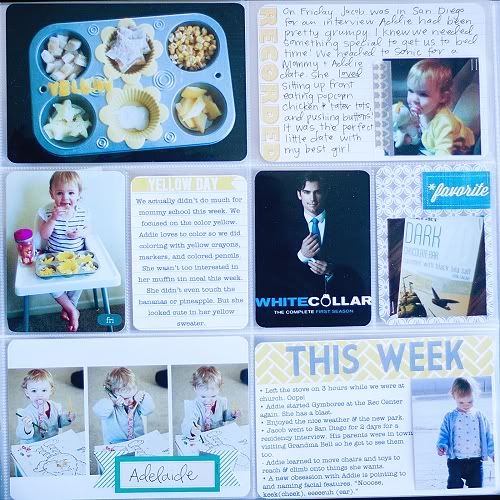 Right side. It ended up very yellow!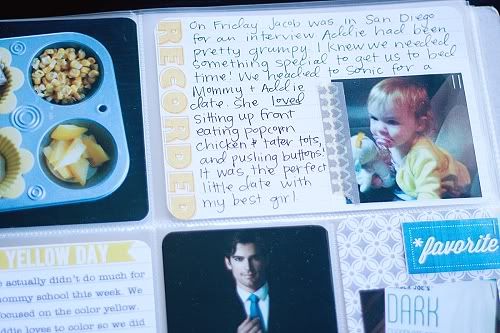 This is a folded card from the Clementine kit. I just left it open + added the instagram pic.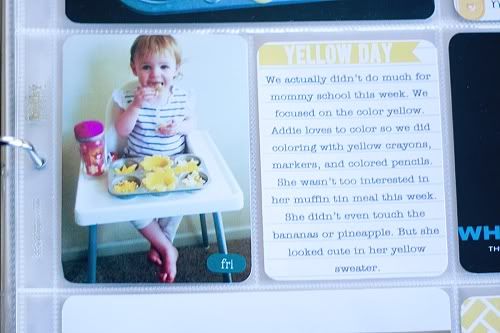 Card from Miss Tiina (free pdf version here)

Hello Neal. White Collar image from the internet. Clementine journaling card + ormolu flapper + instagram pic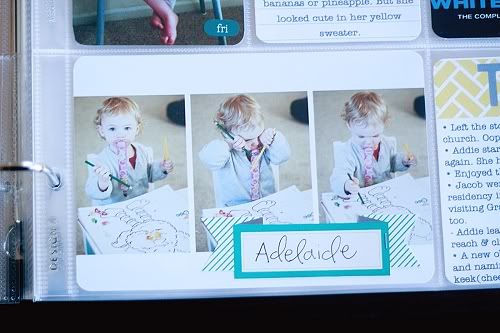 Liz Tamanaha template + AC sticker
By the way, I will be adding in a 6×12 insert for the "locked the baby in the car" fiasco, I just haven't yet. I will photograph it and share when it's finished.
Also, I created a PSD template to fit two 2.5 images on one 4×6 canvas. I print my photos at Costco so I figured making a template would be faster than resizing the images every time. Once you finish it looks like the shot below. You can download the template here. Let me know if you need help using the clipping masks and I'll explain it.
Now I need to get busy on week 4!