In case you haven't noticed in recent blog posts let me tell you now: I'm addicted to Pinterest. And let me tell you why: I'm a visual person and being able to bookmark things by images is perfect for my brain. I like being able to create individual boards for each and every thing I'm interested in. It is by far the best bookmarking tool I've ever used. The social media aspect of it is second to me. I do love seeing what other people pin but I would still use it even if I didn't follow anyone and even if nobody followed me.
Have I sold you yet? If so, here's a tutorial of everything you need to know to get addicted to Pinterest yourself. Find my boards here.
Pinterest Basics
1. Sign up. If you need an invitation, leave your e-mail address in the comments and I will send you an invitation.
2. Make your boards. There are a few standard boards already set up when you open your account. I started with those boards to begin with and then deleted ones I wasn't using and added boards as I needed them. They can be as specific or as general as you want. I find that the more I pin, the more specific I want my boards to be so I'm often adding more. I hope in the future they come up with a way to click and drag pins from one board to another when you make a new board but right now that's not a feature so you have to edit the settings of a pin in order to move it to another boards.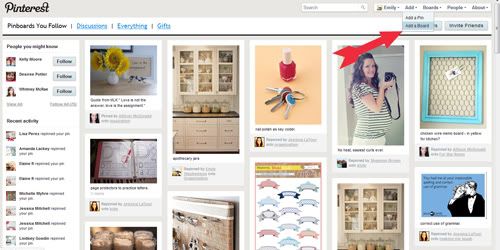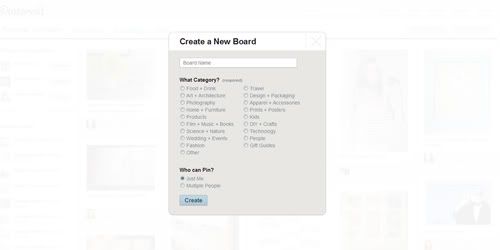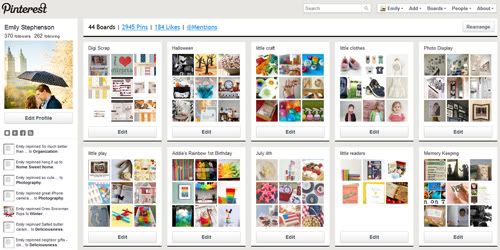 3. Pin stuff! Install the "pin it" bookmarklet. Go to "Add a Pin" on your Pinterest toolbar. When it opens you'll see a bookmarklet that says "pin it" in blue. Drag that onto your toolbar.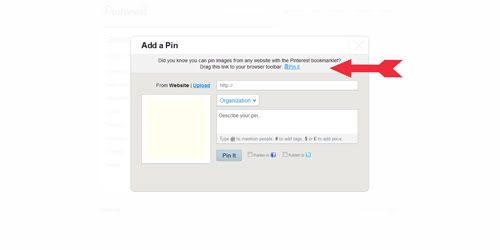 Pin something from a website you like. Make sure you are on the specific post you want to bookmark, not the homepage of a blog. Click "pin it" on your toolbar.
Up will pop a window with all the images on the page. Choose the image you want to pin.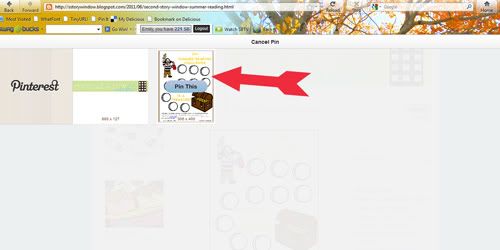 Another window will come up. Here you choose the board you want to pin it to (or add a new board to pin it to) and add a description. I write my description and add // before listing the source, in this case the name of the blog.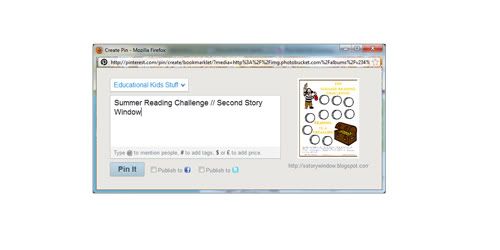 If you see something on your Pinterest stream or on the "everything" stream you want to repin, click repin. Up will pop the same window as above where you can choose your board and change the description if you want.
4. Find friends. Click People on the toolbar and then Find Friends to find people you may know from your Facebook, Twitter, and Gmail accounts. When you find someone to follow you can follow all of their boards or just the boards that interest you.
5. Edit your e-mail preferences. I don't like getting an e-mail every time somebody repins one of my pins. I'd be getting lots of e-mails every day so the only e-mails I chose to get are when somebody starts to follow one of my boards (because I like to check their boards and see if anything interests me,) and when somebody comments on my board (so I can answer them if necessary.)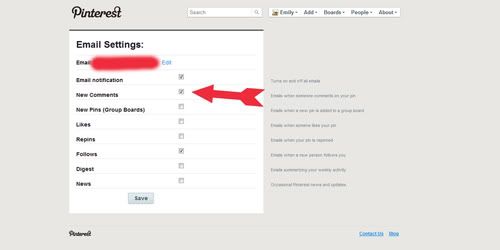 Pinterest Etiquette
1. Pin direct links. I make sure that when I pin something I pin it directly from a specific post and not to the blog's main page. This is for your own convenience when you later want to click the link from that pin as well as the convenience of others who will repin your pin.
2. Give credit where credit is due. This is a hot button issue on the internet these days. Nobody likes to see their ideas all over the internet with no credit back to them. Usually if you pin something, the pin links back to the original source, or it should. Not everybody clicks the link, however, so if somebody is just going to glance at a pin I want them to also see the name of the photographer or blog who shared the idea or inspiration. It's just the courteous thing to do. My method for doing this is: short description // source. (Example: Alphabet City printable game // Second Story Window ) I don't always do this when I repin someone else's pin, but I should. This is obviously just my own opinion.
3. Read Pinterest's Etiquette Guidelines. Some of it is the same as I mentioned here, but it also clarifies what is considered objectionable content and explains how to report such content.
4. Follow only who you want to follow. This is purely my own opinion, but I don't think you should feel obligated to follow any boards that you are not interested in just because your friend is on Pinterest. I look at my friend's boards and only follow the ones that are relevant to me. If I'm following all of my friend's boards and she makes a new one about yard landscaping, I'll probably unfollow that board because I don't have a yard. It's not personal!
Hope that helps you navigate Pinterest a little bit better. If there is anything still unclear, leave a question in the comments and I will try and clarify. Now get pinning!