Fair warning that this will be a long, image heavy post. See previous post for more about the birthday girl. This post is about the details of the party. I got so many of my ideas from blogs/pinterest that I want to 1- give credit where credit is due and 2- share ideas for other people looking to throw a party like this.
So I decided on a rainbow colored party for my girl. I was more interested in the colors than having actual rainbows incorporated into the party. It was just enough of a theme to hold everything together.
Invitation: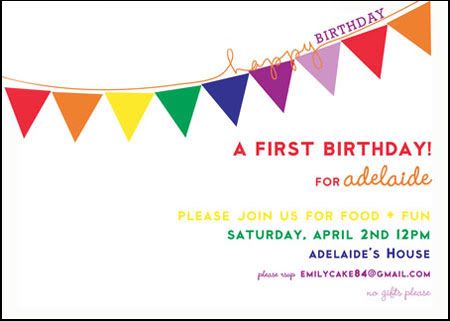 [Black border for online viewing purposes only]
I designed the invitation mostly in Photoshop but with a little work in Illustrator (I'm more proficient in Photoshop than Illustrator but there are a few things I only know how to do in Illustrator so I switch back and forth, what a pain!) I started out with a couple digital elements from Basic Grey and played around with it until I got the right look. I needed font ideas so I checked Lovely Design to see the darling invitations she designed for her daughter (also named Adelaide) and discovered that she used a bunting on her 1st birthday invitation as well. We were on the same wave length. I decided to use the same fonts (Cityof and Wendy) and wording so it really turned out quite similar, half by accident! [See "inspiration" at the bottom of the post for her invitation.]
Decorations: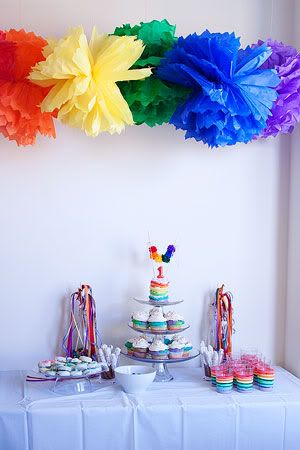 I wanted to keep the decorations simple. We blew up balloons and got a dozen helium ones, and they doubled as activities for the kids. I made tissue paper pom poms and we hung them in rainbow order. Jacob had to hang them for me and was pretty annoyed about it so there was no way I was going to be able to get him to rearrange them when I realized that they weren't evenly spaced or hung at the right levels. Oh well. I made the ribbon garland for Addie's highchair with leftover ribbon from Mom and just hot glued them on. I made yarn pom poms and hot glued them to the party hat. We have a recently bare wall that needed something so I printed up 12 photos of Addie, one from each month of her life. I enlarged my 4 favorite ones (not realizing that two would end up right next to each other, oh well!) I punched the circles from cardstock and used chipboard stickers. I didn't have enough numbers from the same font for them to match so I just mixed and matched. Addie LOVED these photos. She stood there staring at it forever and giggling. It's still there a few days later and she'll stand there in front of it and squeal. The kid loves babies, especially herself!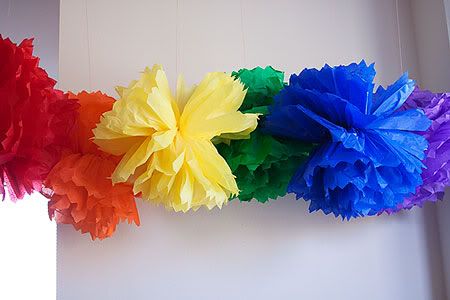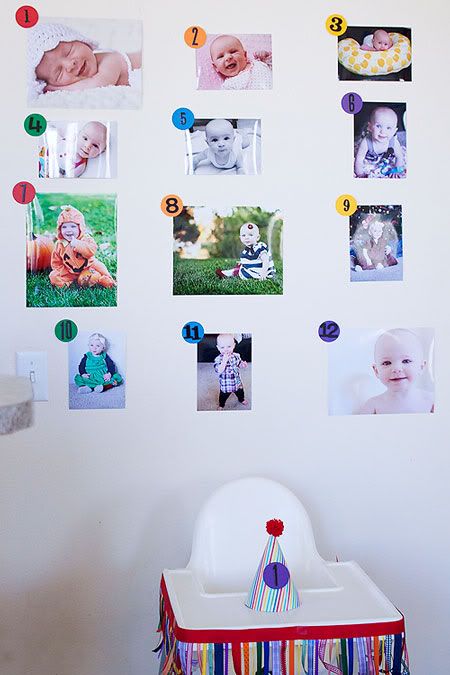 The Treats: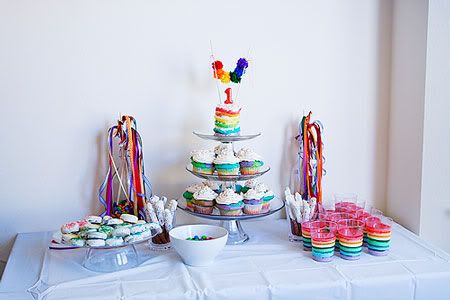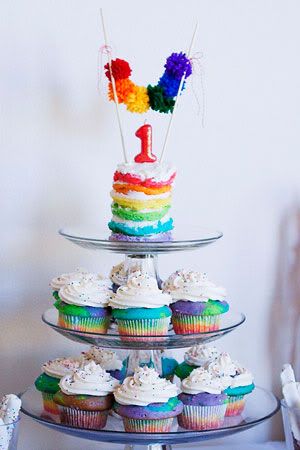 - The cake. I wanted to make a mini version of the infamous rainbow cakes that have been all over the internet. But I wanted the layers exposed because we wouldn't be cutting slices of it like on a big cake. It was a bit messy but I thought it was perfectly imperfect. I made the cake topper with yarn pom poms (see inspiration at bottom of post) and the candle is from Target.
- Here's a little bit of info about making the layers (and the leftover batter was layered into the colorbust cupcakes, recipe below.) I made the batter and separated it into 6 bowls and colored with gel food coloring. A little coloring goes a long way. I used 4″x1″ cake pans for the layers. I made the mistake of spraying the pans with butter-flavored cooking spray which made a brownish crust on the cakes. That may or may not be an issue if your layers will be completely covered in frosting. I trimmed the rounded tops and used a 4″ cookie cutter to clean up the edges. I also ended up cutting the layers into two thinner layers because it would have been way too tall for Addie. (I used the second set of layers for a cake on her actual birthday.) I froze the layers in plastic wrap and frosted them while frozen. If the layers had been bigger and thicker they would have probably frosted more cleanly but I didn't mind it a little messy.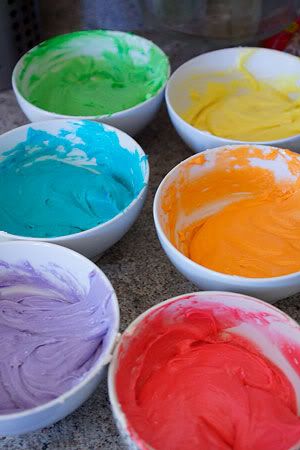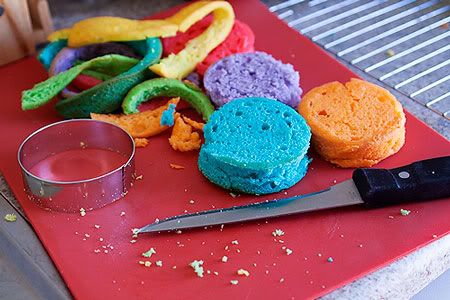 -The cupcakes are Our Best Bites colorburst cupcakes and I used the same recipe for the cake layers. The cake was really moist and delicious. I made their recipe for buttercream cupcake frosting as well. I had never actually made buttercream frosting from scratch and didn't think I was a fan (I usually prefer cream cheese frosting) but it turned out so yummy. Highly recommend. I also used their tips for frosting a cupcake. I overfilled my cups and they turned out a little tie-dyed. If I do them again I'll fill them less and put them in reverse color order, red on top.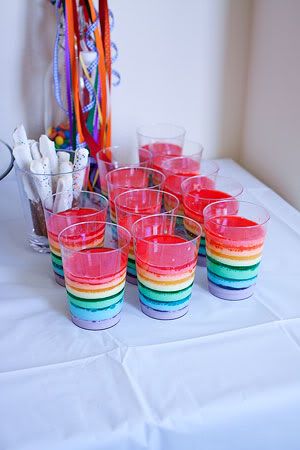 - I used Tangle and True's recipe for
rainbow jello
. I wish I'd made them in smaller cups but the shot glasses were too small and this was my next size option. They were pretty good though and I don't even like jello! The sour cream layer makes all the difference. These aren't particularly labor intensive but each layer does take time to set. And if you're not careful they run together a bit.
- The other treats on the table were chocolate covered pretzels (with rainbow sprinkles), chocolate covered oreos (with different colored sugar sprinkles on each, but I didn't get a very good photo of that) and m&ms. I showed some serious restraint on the desserts. I could have added 4 more, easily.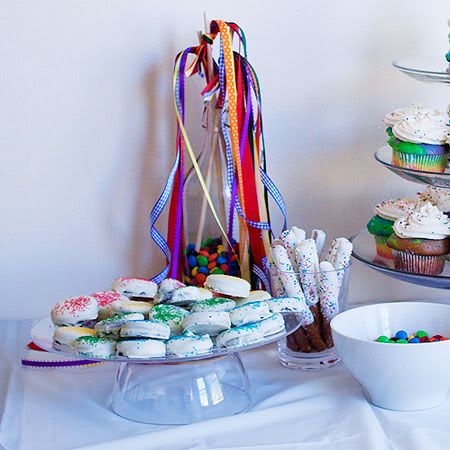 - I made ribbon wands as favors. I filled two
Ikea Slom bottles
with m&ms and put the wands inside. Again, didn't get a great photo of this.
The Food: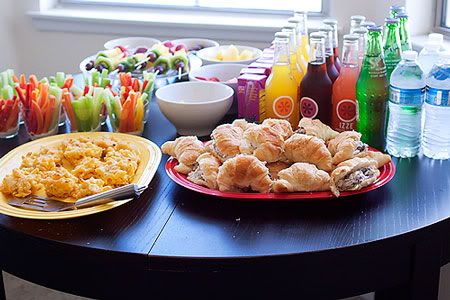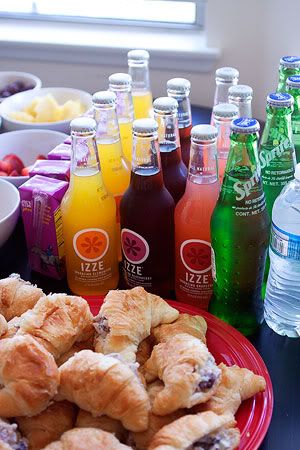 - Mini chicken salad sandwiches on croissants, supplies from Costco! Saved me so much time.
-Mini mac and cheese bites. The one thing I should have made more of.
- Fruit kabobs. These ended up being kind of difficult. The kiwi was soft and tricky to keep on the stick. And the blueberries were so tiny they didn't take up much room. We ran out of kiwi first so then I just put all the extra fruit into bowls and put it on the table. It actually looked nice!
- Veggies in cups with dip on bottom. We used carrots, celery, yellow peppers, red peppers.
- Izze (picked up at Costco), mexican Sprite (so good!), juice boxes, water bottles to drink. I was totally off my game and didn't make water bottle wraps OR food labels.
Inspiration:
Yay for Pinterest where I bookmarked and found SO many ideas.
And a few more pins:
-Things that I wanted to do but didn't because of time/money/practicality but I am sharing for you in case you ever throw a rainbow party. I'm still bummed about not making the rainbow icebox cookies.
It was all worth it for the birthday girl!!